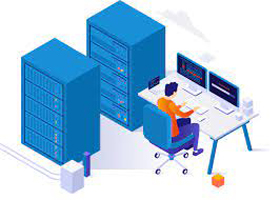 One of the leading hosting services is VPS rental (or, in other words, rental of a virtual server). VDS hosting is very similar to a physical server: the client receives a personal IP, there is the possibility of editing filters and routing tables, and the user has full rights (Root access) to perform any operation.
Differences between VPS and VDS
There are no fundamental differences between VPS and VDS. VDS stands for Virtual Dedicated Server, and VPS stands for Virtual Private Server. These are just different names for the same service. This is why they are often used together. You can find many interpretations on the internet, but both terms appeared and evolved together and essentially are synonyms, referring to the same thing.
Principles of VDS/VPS servers
Just one physical server can support multiple virtual servers. One of the dedicated virtual servers is opened on the physical server when using virtualization. Virtualization is a method that allows one to separate computing processes from one resource and keep them apart. With this technology, servers are entirely independent of each other. Therefore, the VPS server is a different environment; using it is like working with a remote server. The VPS user can make any adjustments and install or configure the software.
Types of virtualization
The most common types of virtualization when renting a VPS are OpenVZ and KVM.
OpenVZ is a virtualization system that can be compared to an OS. A technology based on the Linux OS kernel allows many independent servers to be organized and run on a single PC. The advantage of this technology is the ease of managing the server.
KVM – technology with which you can fully recreate the virtual model of the physical server. When using it, there is an opportunity to configure a separate virtual server with its kernel OS. In addition, the rental of VDS gives each server its own space in RAM and SSD, increasing its security.
Both technologies are free to download, but you should choose based on the needs of your project. For example, if you are working with windows, OpenVZ will not suit you because it does not work with this OS. However, OVZ is very productive and works well with Linux.
The advantages of renting a VPS/VDS server
Your IP address;
"Neighbors" cannot interfere with your work;
You use the server to its full potential;
The ability to fully configure the OS;
Average cost.
Renting a VPS server – a standard service that combines an average price and a wide range of functionality. But it is worth remembering that the virtual server will suit more experienced users because all the reconfiguration is done manually. Or you need to rent a VPS server with administration.
What to choose: VDS hosting, dedicated server, or shared hosting
Virtual hosting is one of the simplest types of hosting. Its association is "utility bills," in which many separate rooms have one address for most requests. When you use this association with VPS, it is more like a high-rise building, in which each apartment has its address but is in a single building. And a dedicated server is an isolated building in which you are free to do any manipulation.
A dedicated server is the most powerful and secure type of hosting service. But it costs a lot, and only some sites are needed. Virtual hosting cannot meet the project's needs but is cheaper. If you have a medium-sized project with an attendance of several thousand people – you suit the VPS server.
Conclusion
Even if your project grows out of shared hosting, you can change the service anytime and rent a virtual server. It suits online stores, quite voluminous information portals, and high-traffic projects. Therefore, choosing a virtual server is worth picking based primarily on the resources your project requires.